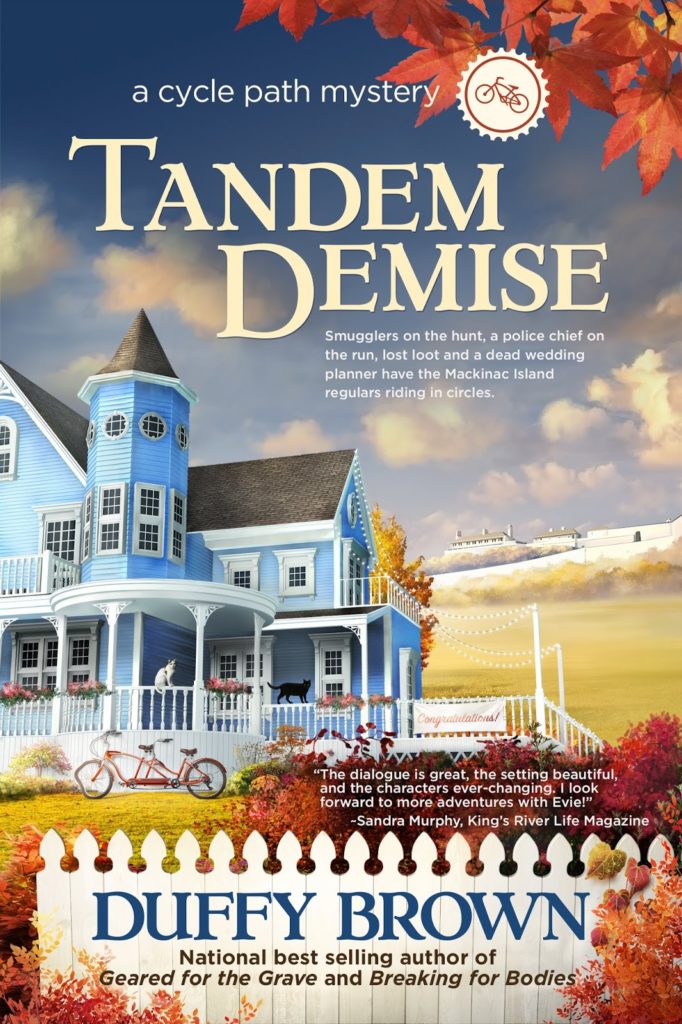 Title: TANDEM DEMISE
Author: Duffy Brown
Publisher: Independent
Pages: 225
Genre: Cozy Mystery
BOOK BLURB:
Smugglers on the hunt, a police chief on the run, lost loot and a dead wedding planner have the Mackinac Island regulars riding in circles

After solving two murders, bike shop owner Evie Bloomfield thought life on Mackinac Island would settle into boredom until she finds out Nate Sutter, island police chief and once-upon-a-time under cover cop is on the run. Some badass guys from Nate's Detroit days think he stole money from them in a champagne smuggling operation and now they're headed to the island to get their loot. Evie is determined to help Nate because he's a good cop. Nate is determined to keep interfering Evie and island locals out of harms way, and the crooks are determined to get their money.
ORDER YOUR COPY:
______________________
Meet the Author
Duffy Brown loves anything with a mystery. While others girls dreamed of dating Brad Pitt, Duffy longed to take Sherlock Holmes to the prom. She is a National Bestselling author and now conjures up who-done-it stories of her very own. She has two series the Consignment Shop Mysteries set in Savannah along with rescue pup Bruce Willis and the Cycle Path Mysteries set on Mackinac Island with judgmental cats Cleveland and Bambino.
Her latest book is the cozy mystery, Tandem Demise.
Website Address: www.DuffyBrown.com
Facebook Address: https://www.facebook.com/authorduffybrown
My Review
Tandem Demise was written by Duffy Brown who I personally have found to be a great mystery writer and I loved this book quite a bit. I really liked the interaction between Evie Bloomfield and Nate Sutter. Though out of the two Evie was easily my favorite character I always love to see a strong female as a main character and Evie fit that to a T, yet she also felt like a real person and not a super woman.